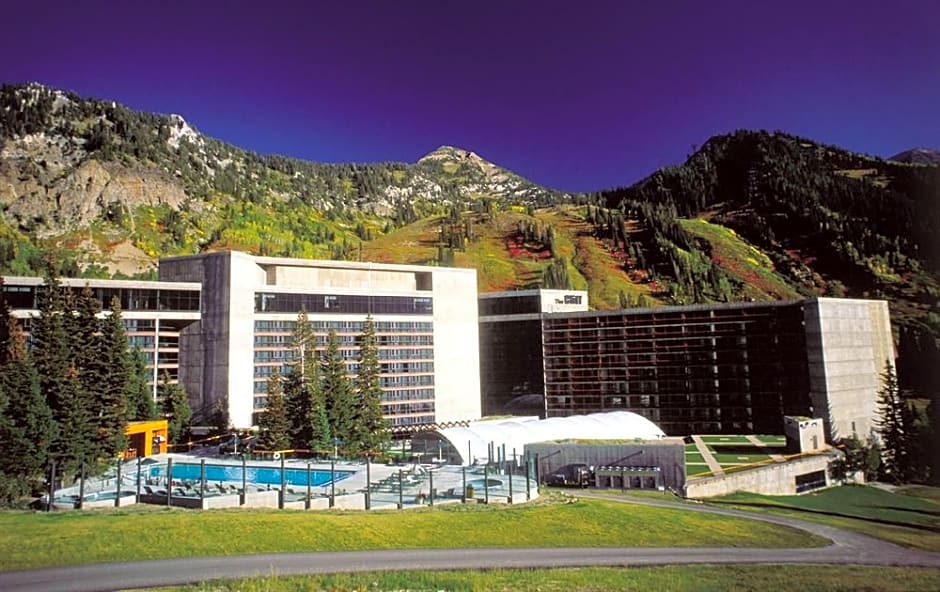 Just 25 miles from downtown Salt Lake City, the Cliff Lodge and Spa enjoys an outstanding Snowbird location near plenty of Utah's finest ski-resorts, golf clubs, and attractions. Hot spots like the Snowbird Ski Resort, Brighton Mountain Resort, Solitude Mountain, and the Canyons Resort - as well as the Park City's famed Mountain Resort and Golf Club, are to name a few. This superior 3-star ski haven is also only 175 feet from the Village Center, and the convenient aerial tram to the acclaimed 11,000-foot Hidden Peak.

Accommodation
Featuring wall-to-wall windows with awe-inspiring mountain or canyon views, Cliff Lodge vistas are modern, spacious, and well equipped with an array of contemporary amenities such as flat-panel TV with pay movies and video-game console, desk, multi-line telephone with voice mail, clock radio, refrigerator, iron/ironing board, and coffee/tea maker. In addition, comforts such as air conditioning/climate control, blackout curtains, opening turndown service, and wake-up calls help ensure restful nights of slumber while private bathrooms come luxuriously complete with marble vanities, designer toiletries, hairdryer, and shower/tub combination.

Hotel Facilities
Besides the seemingly endless list of celebrated ski-resort/spa highlights and services, there are loads of additional recreational opportunities available directly on Cliff Lodge's exclusive, smoke-free grounds including a state-of-the-art a fitness center, solarium - with slope-facing chaise lounges, and a year-round, heated outdoor pool with three spa tubs and poolside bar. Hiking/biking/walking/running trails, ice-skating rink, alpine slide, tennis, arcade/game room/billiards, pilates/yoga classes, aerobics, fishing, and even a fun-filled playground for the little ones are also available on site while horse riding/rental, volleyball, and golfing are within immediate range. What's more, business and leisure patrons alike may benefit with on-site access to wireless Internet, comprehensive business/secretarial equipments and services, multiple meeting rooms ballroom/banquet and events facilities, and much more.

For fantastic in-house dining, Cliff Lodge presents a number of options offering an exquisite selection of Internationally inspired cuisines: from progressive American with a French flair, mouthwatering Mexican/Southwestern, and deliciously fresh sushi a-la-carte dishes to casual buffets, and light snacks - there are enough options of ambience and taste to suit virtually any desired culinary experience. Furthermore, for three nights a week during the winter, guests can even add superb live jazz entertainment to their dining pleasures at The Aerie.

Parking/Transportation
Cliff Lodge and Spa is conveniently located just 30 miles from the Salt Lake City International Airport. For those travelling with vehicles, free parking and valet parking options are available on the property.
ゲストレビュー
自分の意見や感じたことを教えるためにはこちらをクリックしてください >>
予約する方法
The Cliff Lodge and Spaで予約するのが簡単で安全でございます。ご希望の日付を選択します。そして、フォームを送信するために「料金を確認し」というボタンをクリックします。 客室タイプと料金はお宅の画面に戻った後で、画面の中央にある部屋の情報を読むと画面の右側にある「予約する」というボタンをクリックすることによって希望の料金を選択することができます。希望の客室タイプを選択した後で、「ご予約を完了」というフォームに転送されます。その時に「滞在の詳細」を確認して、「ゲストの詳細」という部分の空欄でご自分の詳細のことを書きます。ご自分の名前とメールアドレスが正しく入力されていることを確認してください。 すべての重要な情報を記入した後で、「ご予約を完了」というボタンをクリックしてください。ご自分のセキュリティを確保するために、私たちがクレジットカード番号を暗号化し、非使用可能な形式にエンコードする安全なコマースサーバーを使います。
地域情報
空港

Salt Lake City, UT, United States (SLC-Salt Lake City Intl.)

- 22.13 mi

Provo, UT, United States (PVU)

- 25.36 mi

Ogden, UT, United States (OGD-Ogden-Hinckley)

- 46.05 mi

Evanston, WY, United States (EVW-Uinta County)

- 57.82 mi

Nephi, UT, United States (NPH)

- 59.45 mi